Mike Daly
Collaboration: the DNA of technology partners
August 16th 2022 Partnership Technology Insurance Claims



Learn More
Success comes from far more than just technology, digitisation, and transformation
The triple fit canvas is a sales framework designed to facilitate collaborative value creation between sellers and buyers. Inspired by the blue ocean strategy canvas developed by Chan Kim and Renée Mauborgne and the business model canvas developed by Alexander Osterwalder and Yves Pigneur, the triple fit canvas is both a diagnostic and an action framework. It extends a limited, product-centric view to a broader, customer-centric perspective. It shifts the focus from selling existing products and services to helping create new ones. In this article the author details the key components of the triple fit canvas and describes how companies such as BMW, Konica Minolta, and GAP have benefited from it.
Christoph Senn, Harvard Business Review, May-June 2022
Senn goes on to say:
In research conducted from 1997 to 2020, I identified theoretical and empirical answers to those questions: Good business relationships have nine critical building blocks. And enduring relationships depend on strong collaboration between suppliers and customers. Based on that research, I developed the triple fit canvas, a sales framework designed to facilitate collaborative value creation between sellers and buyers.
We believe that the RightIndem team follows that collaborative approach with its insurer, broker, and MGA customers. We would certainly welcome the opportunity for you to test our technology partnership credentials.
Senn proposes a "Triple Fit Canvas" project to both choose the right partners and optimise the deliverables for insurers, brokers and MGAs so why not benchmark us?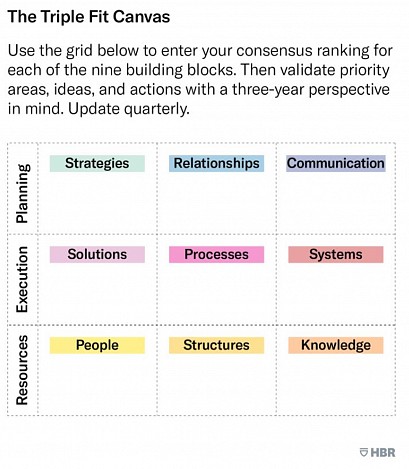 HBR Magazine
A. Planning
Your company and your customers/partners must have aligned strategies and long-term vision. Each team must build and maintain contacts across the organisation and promote good communications. Easily said but hard to achieve without aligned strategies
B. Execution
The power to execute across the solutions, processes and systems is often a gap too far to bridge for some technology companies. Ambition can advance ahead of the ability to execute.
C. Resources
People need skill, clear direction and the structures and processes to deliver the outcomes required by customers. A customer-centric mindset rather than a product lead one.
Patrick Kelahan, "The Insurance Elephant", always implores insurtechs to work from the customer backwards but I wonder how many do.
This is not a once-off process of course. Innovation is as much about iteration and constant improvement as it is about major disruptive jumps into the future.
Senn gives a self-evaluation "Relationship Maturity Check" which I propose you use with both technology partners and end-user customers. Go on- be ruthlessly objective which means not just asking them of your technology partners but also questioning your own customers, whether policy holders or agents, as to how well you do.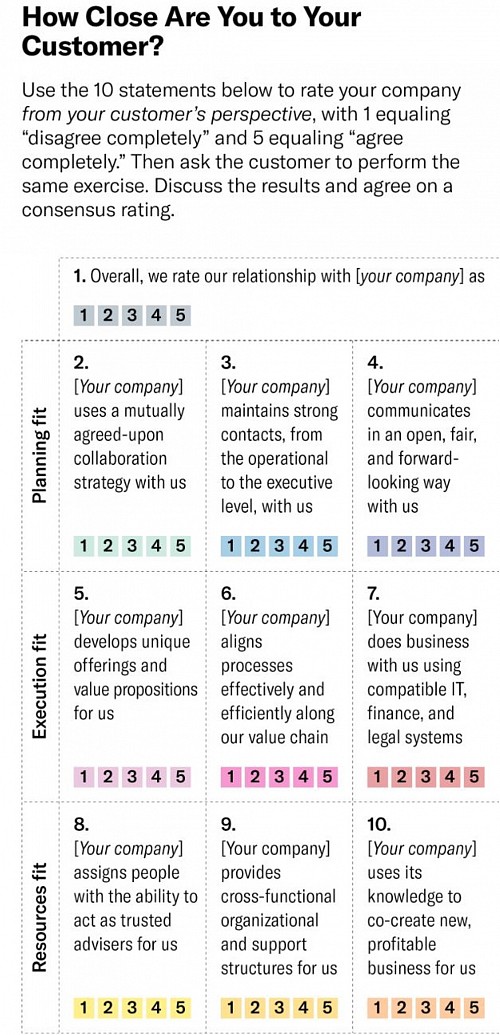 HBR Magazine
Complete the check with customers and with partners
Identify areas for improvement
Develop workable solutions
Differentiate between long- and short-term actions
Persuade your stakeholders


1) Complete the relationship maturity check
You cannot be all things to all people but too often technology vendors pretend they can in the hope of winning new business. But if you are a CoreTech vendor you are more likely to fit either Tier 1/2 insurers or Tier 4/5 insurers. Tier 3 is an overlap area but just because it is do not kid yourself you fit well unless you complete the maturity check with them.
A digital claims platform vendor is unlikely to be best at both ends of a claims spectrum - simple, high volume accidental damage home claims at one extreme and at the other major CAT events like oil rig and factory fires. General Insurance claims or low volume high value London Markets claims.
2) Identify areas for improvement
Whilst every technology company can improve it should decide the priorities which relate to the vision and strategy. Where you receive unsatisfactory answers in the maturity check ask why. Not just once but at least five times. "Peel away the onion" to find the real causes of dissatisfaction and ask the partner and customer to help find solutions.
3) Develop workable solutions
The results of step 2 should be the base point to develop ideas to boost value and mitigate risk. This takes time and too many "solutions" are taken to market too quickly on too many assumptions. Just like many salespeople start selling solutions the moment they uncover a need. They should keep "peeling the onion" to uncover all needs and then rank them by pain.
4) Differentiate between long- and short-term actions
The world of insurtechs, just like all start-up scenarios, is littered with companies that add functionality whenever they hear a request without checking if they are real problems requiring a solution. Feature bloat rather than customer focus.
Divide value creation proposals into quick-win actions for 90-day projects and longer ones into 12-month and maybe 18-month projects.
We usually set these implementation scenarios: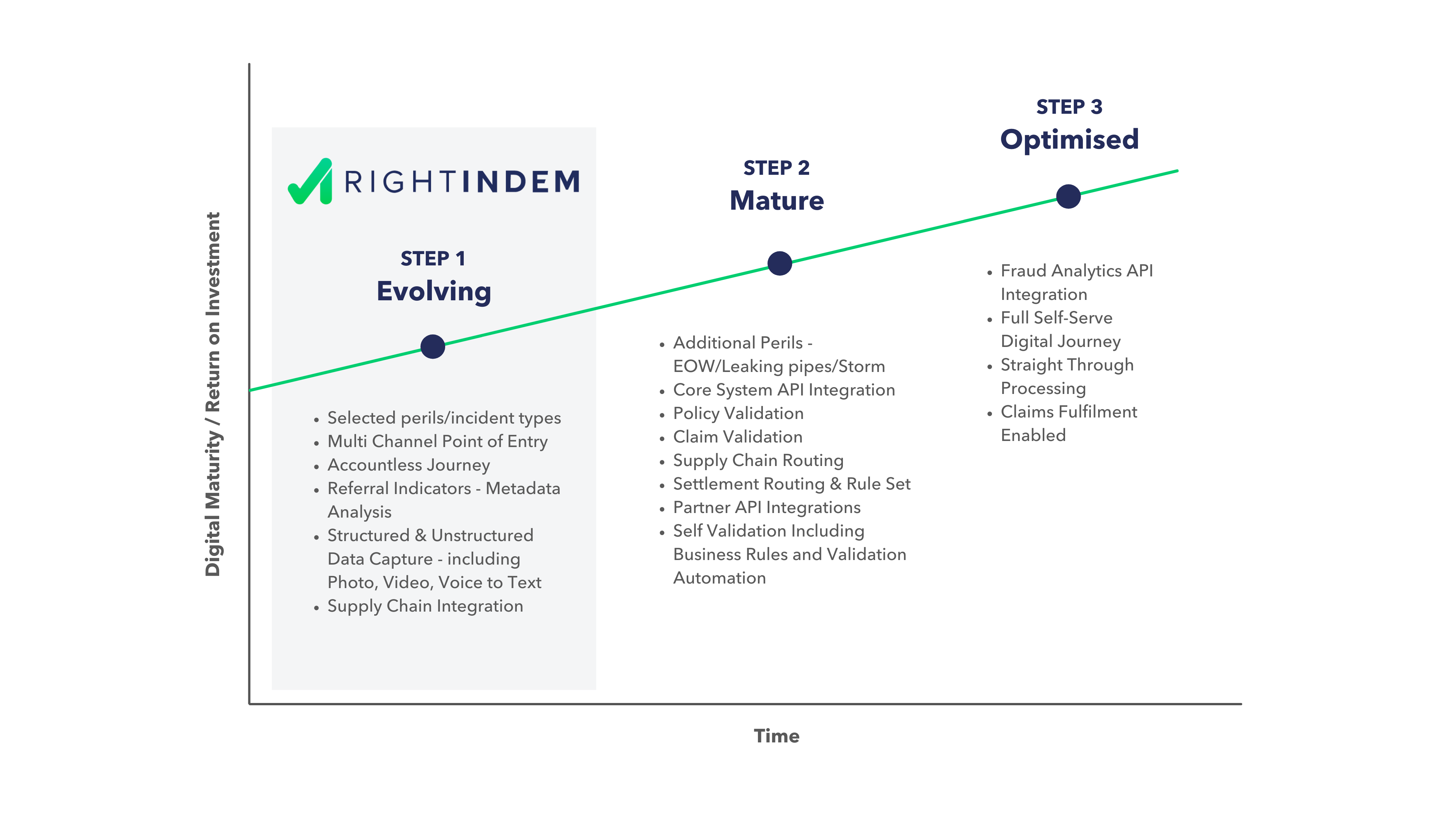 RightIndem Implementation Roadmap
ENOL/FNOL can be delivered in two weeks whilst we would set Step 1- Evolving for a 90-day project. That assumes the insurer/broker/MGA has itself a clear strategy and has buy-in across the line of business and deployment teams.
Step 2- Mature, may take 12-18 months depending upon how many lines of business, how many perils are planned for implementation.
It is easier if this is a direct business. If brokers and agents distribute most products it gets more complicated. Brokers may deal with 10, 20 or even 30 or more carriers and will be reluctant to commit to a specific platform for just one carrier. The insurer must have a sound business, technology and people plan and get buy-in from brokers. This is where true partnership is vital. Just look at how many Blueprints and projects there have been in the London Markets to see how difficult it is to align interests and commitment between Lloyds and Syndicates.
But that is exactly the challenge we relish at RightIndem and offer the platforms, technology ecosystems and support to jump hurdles, cross chasms and achieve competitive advantage,
Step 3- Optimisation can take a long time as by definition it means deployment across all lines of business and embrace insurers, brokers/agents and their supply chains and repair networks
Many of you will have read "Crossing the Chasm" by Geoffrey Moore. The chasm is where many start-up technology companies crash in flames. Scale-ups have real solutions for compelling challenges. Even so you cannot do everything at once. Moore proposes and has experience of a technology stairway to heaven.
"Let us assume we have a clear design for our desired future state. It won't take you long to realize there is little chance that a single intervention can get you from here to there. So, the next major deliverable must be a roadmap organized around a maturity model, or what we like to call, a stairway to heaven. Each step up the stairway should be designed to deliver value upon completion, thereby allowing the organization to pace its change management, funding things as it goes, building its confidence, and reassuring its various stakeholders.
With such a roadmap in place, now you have a current-state/future-state accountability mechanism that can govern each stage of the transformation—the software and systems, the systems integrators, the process owners insider your enterprise, and the people responsible for executing the processes. As we have noted elsewhere, digital transformation is not a restaurant. You cannot simply pay for it and have it delivered to your table. It is a gymnasium. You still have to pay for it, but to get any value out, you have to actually do the transformational work yourself."
Geoffrey Moore
Yes; it is always possible to deliver FNOL claim solutions in weeks, and full claims journeys in months, but to get buy-in across all people in the customer takes as long as it takes. Follow the money and get the balance right between cashflow, capabilities and ability of customer to deploy.
5) Persuade your stakeholders
Big picture thinking and strategic collaborative value creation are beyond the capabilities of many. Get the right people who can sell the vision and strategy and get buy-in across the board.
Insurers focus on building out ecosystems and insurtechs on building out partner ecosystems. It takes time and effort to align each of these never mind connect the two. That is the strategic gateway to heaven which all insurtechs should aspire to, execute well and proudly announce with new customers
That was an experience I bet.
Looking at the gaps what do you have to do bridge them? When it comes to partners, are you really on the same page and will it appear that way to your insurer customers? If not, there will surely be pain at some time.
I fully recommend the full article by Christoph Senn linked below where he gives far more detail and valuable case studies of successful implementation. For now, why not see how we can help you plan and climb that STAIRWAY TO HEAVEN.
Further Reading
Stop Selling Start Collaborating HBR Magazine
Author