Latest Blog
RightIndem and The AA: delivering end-to-end online customer journeys to reduce operational time and enhance customer and job satisfaction
February 23rd 2023 InsurTech Insurance Claims



Learn More
RightIndem is helping insurers, third-party administrators (TPAs), and brokers to provide a complete, fast, and hassle-free end-to-end online customer claims journey.
The RightIndem solution starts with a messaged-based conversational user experience that can be easily configured and customised based on the insurers' requirements. Customers can access the platform 24/7 from any device, and self-serve their claim in minutes. The platform collects structured (e.g., text, dates, geolocation) and unstructured data (e.g., documents, images, videos, audio media), which is accessible in real-time to the insurer to handle the claim. RightIndem can integrate with any preferred partners, and route the data to the right technology company, to determine the best outcome for the insurer and their customers. When applicable, straight-through processing is enabled.
The AA's pain-point, solved
Insurers understand the importance of delivering digital claims experiences to meet customers' expectations and speed-up customer contact.
The leading provider of UK road assistance, The AA, which also has over 1 million car insurance customers, outlined its key business objective of offering a seamless digital customer claims experience for members (whoever their insurer) and insurance policyholders, while reducing operational handling time and effort. RightIndem is working with The AA to provide a solution to this need.
Giving customers a choice
The AA and RightIndem's joint vision is to put customers at the heart of their decisions, enable them digitally and allow them a choice of notifications channels.
Paul Jones, Head of Supplier Services at the AA, adds: "Our customer surveys showed the importance of giving customers the option to report online. We wanted to ease their journey in a moment of high distress and avoid redundant phone calls. Now customers can call us if that's what they prefer, but they don't have to."
Creating fast and easy reporting journeys for customers
Offering a faster and hassle-free FNOL (first notification of loss has also enhanced customer satisfaction.
"Since launch in December 2022, customers have been really impressed with how easy it was to submit a claim online and how quickly we responded to arrange services. They didn't expect us to call that quickly and, overall, were pleased with the overall experience."
Customer feedback reported by Kieran, Claims Handler at The AA
"It's the best thing. I was in shock with my child in the car and I could provide the details on my phone and not have the stress of calling through and waiting for ages. I could get myself home without the worry and stress while waiting for you to call me back"
Customer feedback reported by Ayesha, Claims Handler at The AA
Running operations efficiently and speeding up the processes
Digitising the process has reduced pressures on call centres and saved time for claims handlers to manage more complex claims. Especially during severe weather conditions, when call centres are inundated with phone calls, pressure on claims handlers is alleviated and customers can report their claims at a time convenient to them.
Another claims handler at The AA explains how RightIndem has speeded up their FNOL process and increased job satisfaction: "Since we enabled this new process, we have been working more efficiently. Now, manual claims handling is reduced, and efficiency in the team has increased."
Digitally enabling customers and handlers has speeded up processes and increased satisfaction for both customers and handlers.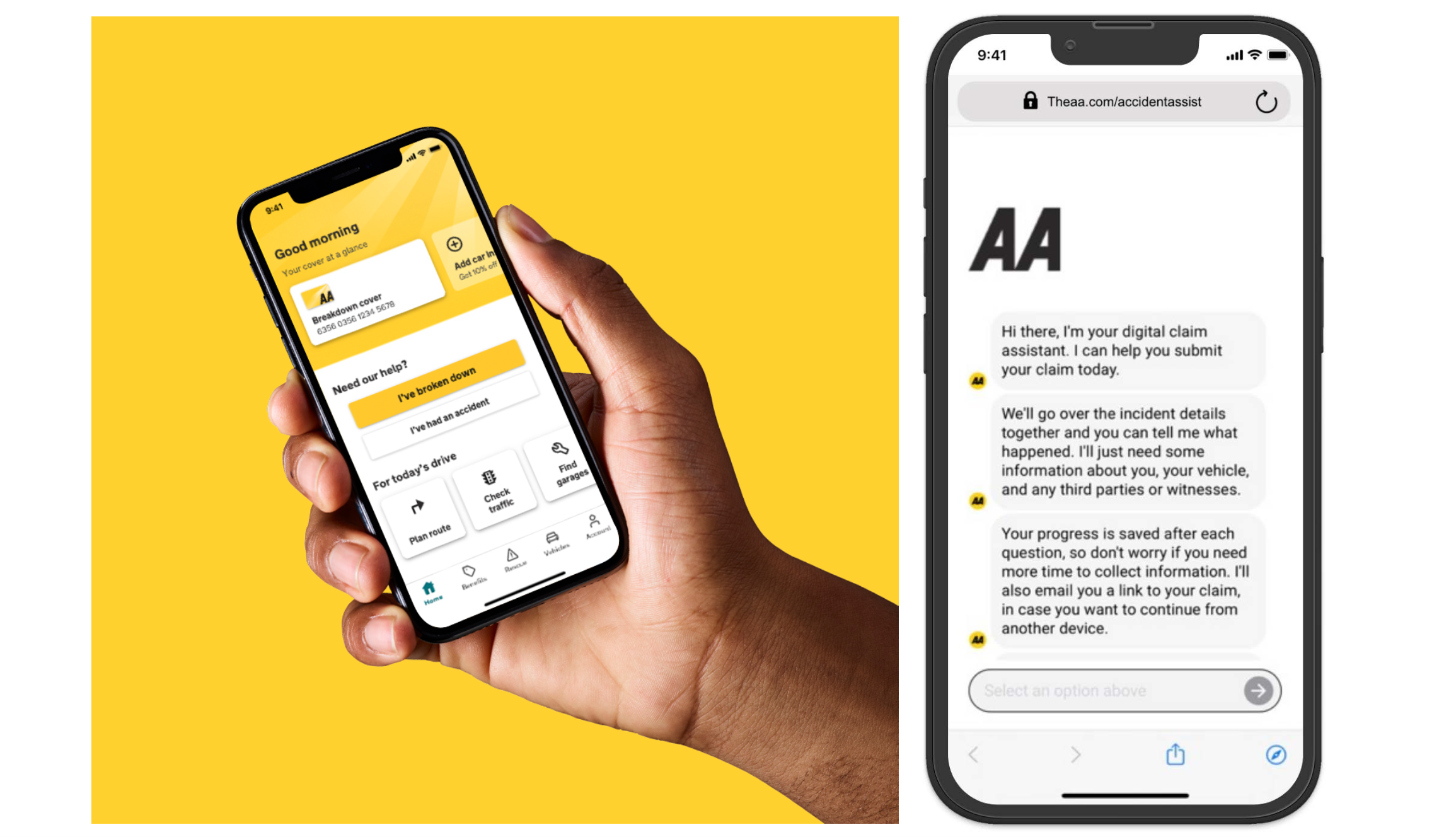 This case study is an extract of Instech's report "Automating Processes and Speeding Up Operations: 30 companies we know".